Vivek Wadhwa honored with Silicon Valley Forum Visionary Award
Alexandra George
May 18, 2018
Vivek Wadhwa, Distinguished Fellow in the College of Engineering at Carnegie Mellon University Silicon Valley (CMU-SV), was honored as a Silicon Valley Visionary at the 21st Visionary Awards hosted by the Silicon Valley Forum.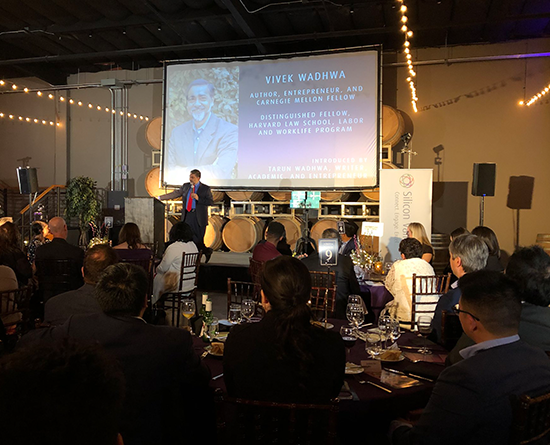 "To be named a visionary in the most innovative place on the planet is an incredible honor and I am grateful to Silicon Valley Forum for this," said Wadhwa.
The event, which took place at Domenico Winery in San Carlos, CA, honored four of Silicon Valley's founders and brightest stars for their achievements, work, and contributions to Silicon Valley's world-famous technology ecosystem. Wadhwa was also invited to give a speech at the event.
Wadhwa was recently named a Distinguished Scholar at Harvard Law School. He is also a globally syndicated columnist for The Washington Post and author of The Driver in the Driverless Car: How Our Technology Choices Will Create the Future; The Immigrant Exodus: Why America Is Losing the Global Race to Capture Entrepreneurial Talent, named by The Economist as a Book of the Year of 2012; and Innovating Women: The Changing Face of Technology, which documents the struggles and triumphs of women. Wadhwa has held appointments at Duke University, Stanford Law School, Harvard Law School, Emory University, and Singularity University. 
As a Distinguished Fellow and adjunct professor, he researches and teaches about exponential technologies, technological convergence and industry disruption, risks and regulations, and the new rules of innovation. 
"I have long been both a cheerleader and critic of Silicon Valley, pointing out its many flaws," said Wadhwa. "What always amazes me is its openness to criticism and ability to constantly reinvent itself. That is why I believe Silicon Valley will continue to lead the world in innovation."