Sights set on the future
Wadhwa named one of four recipients of the Silicon Valley Forum's 2018 Visionary Awards
Nathan Healy
Mar 8, 2018
A visionary is defined as having or being marked by foresight and imagination. Andrew Carnegie was a visionary, forever changing the trajectory of industry through the founding and operating of U.S. Steel in the mid and late 1800s. It's fitting then that Carnegie Mellon University, founded by Carnegie, should call itself home to another visionary.
Vivek Wadhwa, a Distinguished Fellow in the College of Engineering at Carnegie Mellon's Silicon Valley (CMU-SV) campus, has been named one of four recipients of the Silicon Valley Forum's 2018 Visionary Awards. The Visionary Awards, now in their 21st year, is a celebration of the achievements, work, and contributions of those the Forum recognizes as Silicon Valley's "brightest stars and leading founders."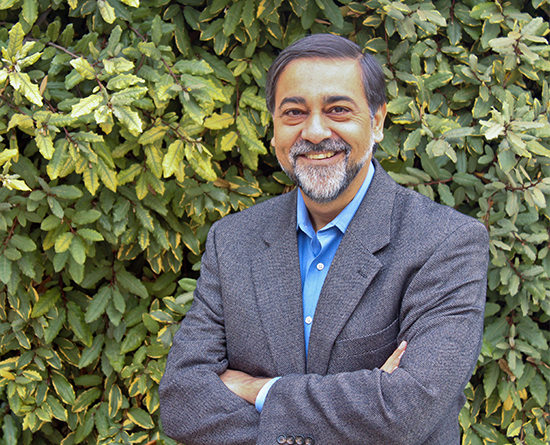 Wadhwa joined CMU-SV's faculty in 2016. As a Distinguished Fellow and adjunct professor, he researches and teaches about exponential technologies, technological convergence and industry disruption, risks and regulations, and the new rules of innovation. In addition to his commitment as a researcher and professor, Wadhwa is also a globally syndicated columnist for The Washington Post where he writes about innovation.
Previously, LinkedIn Top Voices 2016 named Wadhwa one of 10 "must-know influencers," and TIME Tech 40 named him one of the most influential minds in tech. He has also authored three books, with his 2012 publication The Immigrant Exodus: Why America is Losing the Global Race to Capture Entrepreneurial Talent recognized as Book of the Year by The Economist. He has also written about how current choices in technology will impact our future and the struggles and triumphs of women in tech-related fields.
The Silicon Valley Forum has spent its 35-year-history helping people learn how to build businesses with a focus on creativity, innovation, and technology. It utilizes events, programs, and conferences to educate, train, and inspire 21st century entrepreneurs. "Every year…we look forward to the opportunity to celebrate the absolute best of the best of Silicon Valley—the leaders whose work is synonymous with what makes this region so magnetic," said Denyse Cardozo, Silicon Valley Forum's CEO.
Wadhwa will be honored alongside Black Girls Code Founder and CEO Kimberly Bryant, Flickr and Hunch Co-founder Caterina Fake, and X's Captain of Moonshots Astro Teller.
The celebratory event will be held May 17 at Domenico Winery in San Carlos, California. Learn more about the Visionary Awards and tickets for the event.