Communication and language services
Overview
The Communication and Language Services team at Carnegie Mellon Silicon Valley is your resource for information and learning opportunities to improve your English skills and hone your presentation and writing skills through workshops, one-with-one tutoring, and self-paced materials.
Some of our workshops are designed for non-native English speaking students, some for all students. Tutoring services are available to everyone—use this when you want help on a specific presentation or paper, or want guidance on improving your English language skills.
For non-native speakers who plan to TA, we set up International Teaching Assistant (ITA) tests, and provide any required language support for TAs.
Workshops and seminars
Each semester, CLS offers workshops in the areas of presentation skills, writing, and pronunciation. Some workshops are one-time sessions, others go for 2–6 sessions. Watch for email announcements at the beginning of the semester and again after the mid-semester break.
Tutoring Ssrvices
Individual tutoring appointments are available to all students. Contact us for an individual session if you:
Have an individual or team presentation and want some feedback on organization or delivery
Would like feedback on making a writing assignment clear, concise, and well organized
Have specific concerns about presenting and would like to practice techniques for addressing your concerns
Want an assessment and guidance on improving your English language skills
Contact Jennifer Wolfeld with questions about any of the services.
Global Communication Center
CMU-SV students may also use the tutoring services available at the main campus through the Global Communication Center (GCC).
College of Engineering students who are unable to attend face-to-face appointments at the Pittsburgh campus may schedule an email appointment. Students using our email service will be sent a screen-capture video containing a tutor's feedback within 24 hours of their appointment time. Email appointments are available on Sundays, Tuesdays, and Thursdays.
ITA testing and required support for TAs
All non-native English speaking students who TA are able to take the International Teaching Assistant Test before they can TA. Those students receiving a restricted I or II score are required to receive 15 hours of language support in any semester in which they TA. ITA tests are conducted on the Silicon Valley campus via remote connection to the Intercultural Communication Center (ICC) on the Pittsburgh campus.
Testing is usually scheduled through the department for which you will TA once you have secured a TA position. Your department contacts the ICC, and ICC staff will contact you about a testing day and time. For information about the test, test preparation, scoring, and required language support see ICC's Overview of ITA Testing.
Doing your required language support: It is your responsibility to make sure you are doing the required support. CLS staff will contact you at the beginning of the semester in which you TA to explain the options:  a combination of workshops, self-paced work, and tutoring. If you have questions about this, contact Jennifer Wolfeld.
Self-paced materials, handouts, and other useful links
You can access these resources on your own, though you may find it useful to talk first with a tutor who can orient you to the best use of the resources.
Pronunciation, writing, and English language Rresources
Ph.D. student and teaching assistant resources
Presentation resources
Communication and language services staff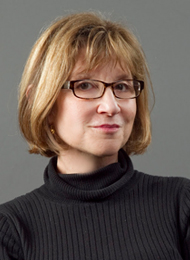 Jennifer Wolfeld
English Language Specialist
Jennifer provides tutoring to non-native English speaking students in writing, speaking, and pronunciation, and teaches various workshops. She is on campus part time and the best way to reach her is via email.
Office: B19-1043
Email: jennifer.wolfeld@sv.cmu.edu